You want the best for
your patients and clients
We're here to help you help them. We are the national leader in coordinating and delivering mental health and addiction treatment and care. Our team of physicians, clinicians and service providers is key to delivering on our promise to improve lives.
Learn More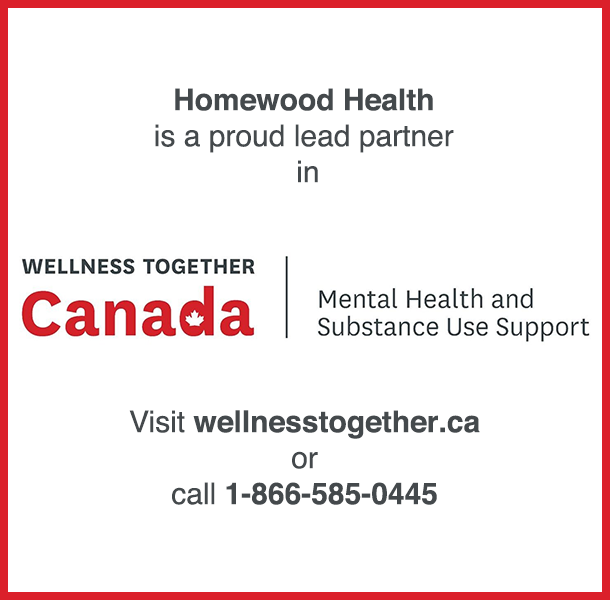 Free Counselling, Tools and Support for All Canadians
We are very excited to announce that Homewood Health is in partnership with Kids Help Phone, Stepped Care Solutions, and supported by Greenspace Mental Health, to deliver Wellness Together Canada - a full range of free mental health support and counselling to people of all ages in every part of Canada.
Funded by Health Canada, Wellness Together Canada is available in both English and French as an online portal/website and can be accessed at wellnesstogether.ca. It can also be accessed by phone.
Find out more by going online today or call 1-866-585-0445
You need a partner that understands and works with you
Homewood's national team provides a personalized approach to patient and client care that begins with understanding your needs. We work to understand your practice, and how Homewood programs support you, your patients and clients. With each case, it is our goal to deliver the outcomes that you're expecting.
We have opened Homewood Clinics in Mississauga, Vancouver, Calgary, and Edmonton. We have established a national network of integrated outpatient treatment clinics across Canada.
Learn more about The Homewood Clinics
Unparalleled patient and client support
We offer Canada's only complete continuum of mental health and addiction services. That continuum simplifies the path to good health for your patients and clients. It ensures seamless access to the right care at the right time. It also provides healthcare professionals with clear and responsive paths for referral, support and engagement.
We're your partner
Our clinical partners are key to the success of Homewood Health. You may refer patients to the Health Centre in Guelph. You may provide local counselling to our clients in cities and towns across the country. Regardless of the type of relationship we have, you're important to us. We work to provide you with the support you need and work every day to facilitate timely access to care and outstanding treatment.
Specialized Care
We offer a wide range of specialized programs, focused on mental health and addiction treatment and support. Our programs are delivered by an outstanding national team of interdisciplinary professionals.
Superior Service
We make our full continuum of services easy to access, and our solution-focused, evidence-based approach is built on an understanding of the unique demands placed on healthcare professionals.
Leaders in Research
We are Canadian leaders in mental health and addiction research.
We believe that research breeds innovation, and that evidence-based innovation leads to better care for your patients and clients.
Being Responsive
Collaboration is key to our shared success. We work to make ourselves available to respond to your needs. We support our national network through consultation, education, training and simplified processes.
The Homewood Health Centre
The strength of Homewood Health is anchored in the medical credibility that comes from over 130 years of clinical practice and patient care, founded on our commitment to research and innovation. Our fully accredited facility located in Guelph, Ontario has received numerous awards and is home to 300 beds dedicated to mental health and addiction treatment.
Make a referral to the Health Centre
Joining Our National Provider Network
Join us today. We're 4,500 strong and growing. For more information on joining our national network of EFAP, assessment and treatment professionals—visit our Careers page for current opportunities.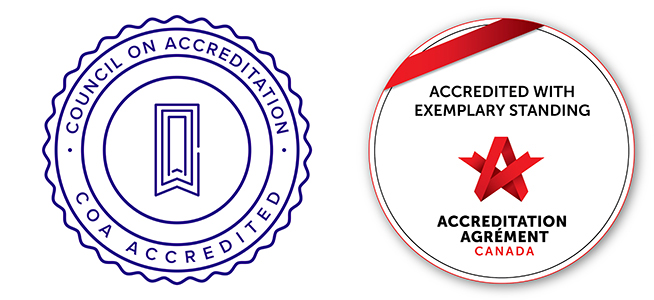 The clinical information presented here is not intended as a diagnosis. It is for information purposes only and Homewood Health Centre does not warrant its accuracy. Should specific concerns arise with respect to your health or the health of a family member, please see your family physician or visit the local emergency department. This is a Canadian website. Its content is intended only
for residents of Canada.
"After many failures, and much time, effort and money invested in two treatment facilities, I have found a "home" that understands and knows how to treat me. Thanks!"